First, the facts:
Needles: Dyak Heavy Metals
Company: Dyak
Type: Interchangeable needles made from stainless steel
Sizes: US 0/2.00 mm, US 1/2.25 mm, US 1.5/2.50 mm, US 2/2.75 mm, US 2.5/3.00 mm, US 3/3.25 mm in either 3.5″ length tips or 5″ length tips
Cables: 16 inch, 21 inch and 39 inch for the 3.5″ tips; 17 inch, 29 inch and 36 inch for the 5″ tips
The In-Depth Look: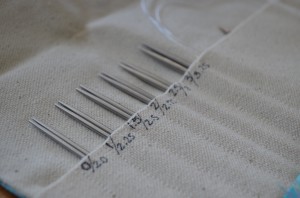 Like many knitters, I love using interchangeable needles, and I have since Denise came out with the first decent set I ever used. I've upgraded several times since then, and have been happy with several of the sets I've tried, most recently the needles from Dyak, makers of the Darn Pretty Wood needles with the seemingly endless wait-time. (Worth it though. I bought a set last year and even though it took ages, I adore them.)
But, sadly, there were never any sets that went below a US 4 or 5 size needle. I personally tend to knit on the smaller end of the needle scale, so I was excited when I saw that Dyak had US 3 in their Northern Light set, but I had little hope that a set of even smaller needles would arrive any time soon. Not because manufacturers weren't willing, but because of the logistics–creating a needle that would work but with a connector small enough for a size 0? That's only 2mm to play with–not an easy feat for a screw that would be screwed and unscrewed countless times by eager knitter fingers.
So, imagine my delight when I saw the announcement several months ago of Tom Dyak's new "Heavy Metal" needles that go all the way down to a US size 0 needle, my preferred tip for socks.
They're named Heavy Metals because, unlike most metal needles, these are solid steel–not hollow. Their cables come with special, small connectors to fit their tiny diameters (so cables from the other Dyak sets aren't compatible), but they swivel, so your cable will never twist and tangle. And, as always, they come with a handmade case.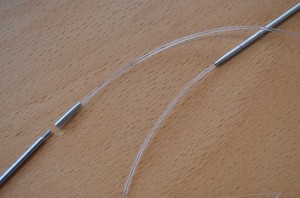 But how good are the connectors, you're wondering? Well, very good. It's just a simple screw-in tip, but when connected to the smallest size, it's seamless–no gaps to snag the yarn, and a straight join, no nasty, abrupt angle or curve to interfere with your stitches.
Honestly, I wish I'd been able to buy these months ago. I know other people are excited, too. I mentioned these on Facebook and two of my friends immediately turned around and bought a set–because, size 0 interchangeables?
Well, it is the time of year for miracles.

My Gush: Finally a set of interchangeables for sock lovers!