Sometimes, people have wonderful things–and then do good things with them.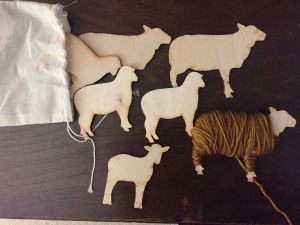 Susan Gibbs of Juniper Moon Farm and her husband Michael have created these wonderful sheep. They're basic cutouts in sheep-shapes, which is pretty straight-forward, but then … you get to have fun with them. Wrapping them in yarn leftovers, for example, or turning them into wreaths or magnets or … the creativity is boundless! (Seriously–check out her blog to see.) There's even a sweater pattern so you can knit them their own sweaters.
But, even better, when you buy them, a portion of the proceeds are being donated to Heifer International.
That's right–there are hundreds of little flocks out there, and they're not only adorable and fun, but they're good for charity, too.
What could be better this time of year? The only possible problem, here, is that you could get so involved playing with your new flock, that you fall behind in your holiday preparations … but, really, that's a risk I'm willing to take.
You can buy them from the farm's Etsy shop or through Facebook.